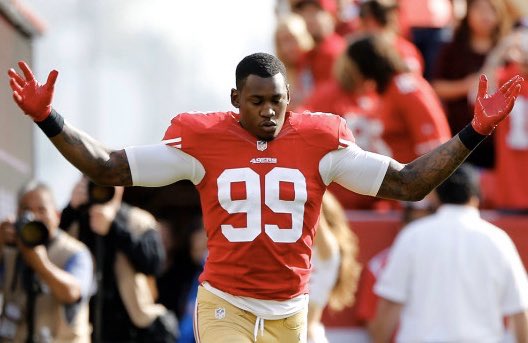 Former San Francisco 49ers and 7th overall pick in 2011 NFL Draft, Aldon Smith has reached a one-year contract deal with the Dallas Cowboys as he looks to resurrect his career in the pro football league.
On Thursday, Smith proudly announced the news on his Instagram account with the captions, "Life is good. I'm thankful. I'm blessed. I'm a Cowboy."
The Cowboys though are also known for their history of taking chances with players who wanted to set their careers back on track as Aldon hasn't played in the NFL since 2015 as a member of the Oakland Raiders.
In his 59 career games, he had an overall 47.5 sacks in 59 games which led to his reported $2 million with Dallas for next season. The breakdown of his contract will be : $140,000 for the reinstatement from the NFL, $100,000 for showing up in the training camp.
Another $100,000 for two preseason games and $100,000 after the preseason have concluded. Then if he could crack the final roster, Smith will receive $440,000. His base salary will be $910,000 and another $40,625 for his attendance every game.
Now at 30 years old, Smith has learned his lesson after multiple controversies and suspensions he received throughout his professional career. In 2014 he was suspended for 9 league games. Then in November 2015, he violated the sport's substance policy, prompting another suspension.