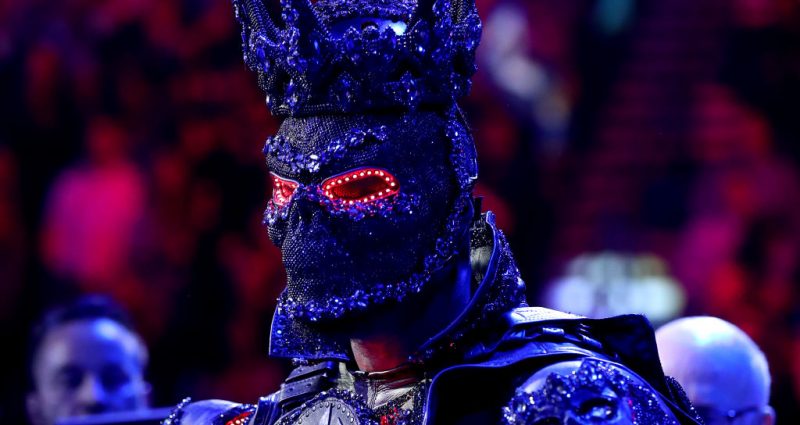 Last Saturday night at the MGM Grand Arena in Las Vegas, British superstar Tyson Fury displayed a masterful performance in his rematch against American Deontay Wilder in the WBC Heavyweight title encounter.
This was a rerun of the first encounter they had in December 2018 which ended in a controversial draw. But unlike in the first meeting, Fury looked more aggressive compare to Wilder right from the get go.
Due to Fury's aggression, he dropped Deontay two times, first in the third round and the other one in the fifth round. The match ended in the seventh round as Wilder's corner threw the towel to stop his suffering at the hands of Tyson.
But the defeat wasn't a pill that Wilder would swallow smoothly as he made an excuse about the loss – the walkout costume he wore during the entrance.
Speaking to Kevin Iole of Yahoo Sports, Wilder said that it was the 40-pound costume that led him to lose his legs before the bout even begun and revealed that Fury didn't hurt him.
He didn't hurt me at all, but the simple fact is … that my uniform was way too heavy for me, I didn't have no legs from the beginning of the fight. In the third round, my legs were just shot all the way through. But I'm a warrior and people know that I'm a warrior. It could easily be told that I didn't have legs or anything. A lot of people were telling me, 'It looked like something was wrong with you.' Something was, but when you're in the ring, you have to bluff a lot of things. I tried my best to do so. I knew I didn't have the legs because of my uniform.


I was only able to put it on [for the first time] the night before, but I didn't think it was going to be that heavy. It weighed 40, 40-some pounds with the helmet and all the batteries. I wanted my tribute to be great for Black History Month. I wanted it to be good and I guess I put that before anything.
Besides from blaming the costume, Deontay went on to roast his assistant trainer Mark Breland who was responsible in throwing the towel during the pour of heavy blows that Fury was launching to him.
According to Wilder, he broke the principle that they agreed for so many years now which is to stop a fight via throwing the towel.
I am upset with Mark for the simple fact that we've talked about this many times and it's not emotional. It is not an emotional thing, it's a principal thing. We've talked about this situation many, many years before this even happened. I said as a warrior, as a champion, as a leader, as a ruler, I want to go out on my shield. If I'm talking about going in and killing a man, I respect the same way. I abide by the same principal of receiving.


So I told my team to never, ever, no matter what it may look like, to never throw the towel in with me because I'm a special kind. I still had five rounds left. No matter what it looked like, I was still in the fight.

I understand he was looking out for me and trying to do what he felt was right, but this is my life and my career and he has to accept my wishes.