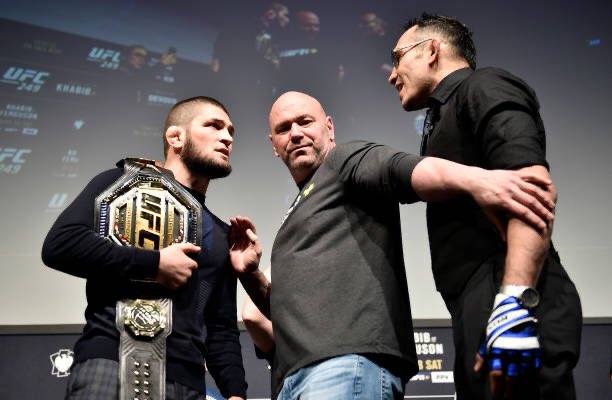 UFC President Dana White appeared yesterday on SportsCenter in ESPN to assure everyone that the upcoming mega fight between UFC Lightweight Champion Khabib Nurmagomedov and challenger Tony Ferguson will still push through as scheduled.
"As of now, fights can't happen at the Apex here in Las Vegas. So, we're working to find new locations, but the fights will go on; they will continue. We're not stopping," White stated.
It appears that the UFC is the major sports organization in the United States to continue its events despite the pandemic alert that Coronavirus has presented.
The NBA, NHL, MLS and PGA have suspended their play as early as last week to avoid the spread of the said virus and resume of such events are indefinite.
That fight will happen. It will go on. The fans are all freaking out about that, do not worry. Khabib versus Tony will happen.

Dana White on Khabib Nurmagomedov versus Tony Ferguson match
UFC didn't postponed its UFC Fight Night in Brazil this past weekend and instead push through with the event behind closed doors in Brasilia where Charles Oliveira defeated Kevin Lee via submission in the main event.
However, Dana White stated one possible condition that events would be called off and that is if mandatory shut down would be imposed nationwide.
"Unless there's a total shutdown of the country, where people can't leave their houses and things like that, these fights will happen. We're gonna move on. These fights will happen. These guys will compete. We will find venues, and we will figure this thing out. I mean, the only thing that's gonna stop us is a complete government shutdown, where everybody is confined to their homes."