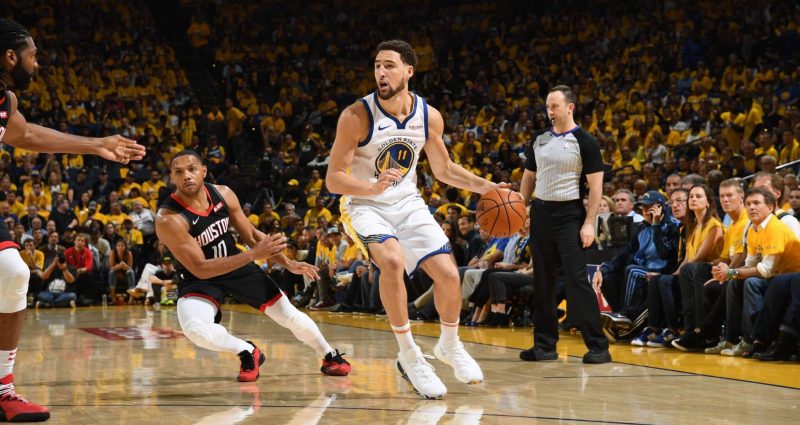 Golden State Warriors almost blew a 20-point lead in Game 5 of the current Western Conference Semifinal battle with Houston Rockets but eventually prevailing, 104-99 to pull them closer in going back to the Conference Finals for the fifth straight time.
They had to overcome a scary injury from Kevin Durant in the 2:05 mark of the third quarter. Durant hit a shot over Iman Shumpert and when he was running back on defense he suddenly felt some pain in his lower leg forcing him to limp back inside the dugout. He never got the chance to go back in the remainder of the game.
Anxious moments clouded Oracle Arena due on the incident because assessing Durant's injury at first glance it appeared to be a torn Achilles injury but a sigh of relief when it was waived as a right calf strain.
Klay Thompson stepped up for the hole that Kevin Durant left and Stephen Curry was struggling, pouring in team high 27 points built around 5 three-point shots made.
Stephen Curry even on his bad game scored 25 points, Kevon Looney came up big time to chime in 22 huge points and Andre Iguodala added another 11 markers.
Meanwhile the Houston Rockets who now faces the brink of another playoff exit was headed by reigning MVP James Harden who tallied 31 points, 8 assists and 4 rebounds.
Harden got a plenty of help though from his teammates as Eric Gordon generated 19 points, P.J. Tucker with 17 poenough plus Chris Paul and Iman Shumpert's 11 each but was not enough to lift their team.
Game 6 is on Saturday with the Warriors having a chance to close out the series and Houston will try to keep their season alive.