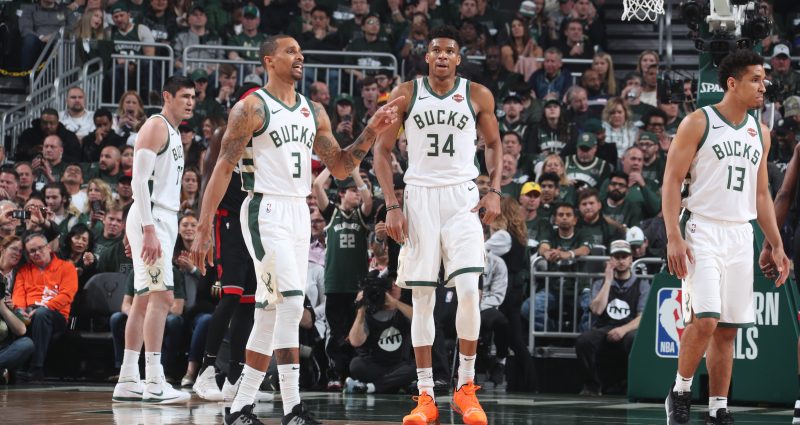 After a very close Game 1 encounter which saw them winning the game by 8 points, the Milwaukee Bucks provided a masterful performance on both ends of the floor and obtained a 125-103 blowout victory for a 2-0 series lead in Eastern Conference Finals thus needing only two wins from reaching the NBA Finals.

Milwaukee jumped into an early 14-point cushion in the first 12 minutes of action, 35-21 and ballooned it to 25 points entering the halftime interval mainly because of Nikola Mirotic's 15 points (built around two 3-point field goals) and Giannis Antetokounmpo's 11 markers plus two other key bench players in Ersan Ilyasova (15 points) and Malcolm Brogdon (12 points including three 3-point bombs).

The Raptors responded well after the break as they went on to outscore the home team in the third canto by eight points, 39-31 and cutting the deficit to just 17 capped off a buzzer-beating long distance shot by Jodie Meeks and at least give his team a chance for a comeback.

But Giannis (who finished with 30 points, 17 rebounds and 5 assists in just 30 minutes of playing time) and the Bucks finished the game in stunning method by producing 30 points in the last quarter and clamping down Toronto on defense.

Meanwhile the Toronto Raptors was paced by Kawhi Leonard who generated a game high 31 points on top of 8 boards and 2 assists with Kyle Lowry helping in the scoring load of 15 points (along with 5 dimes and 4 rebounds). Outside of the two Raptor star, only Norman Powell managed to break in the double digit mark with 14 of his own.