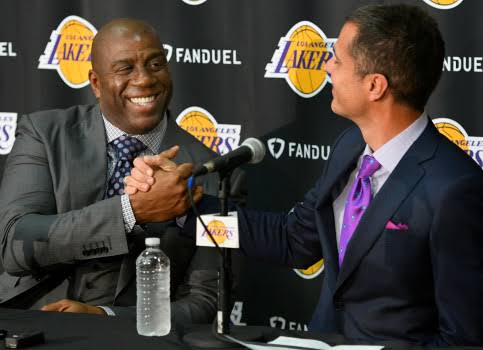 On Monday's episode of the First Take, NBA Legend and former Los Angeles Lakers president of basketball operations Magic Johnson channelled his inner Damian Lillard by doing his own version of "Bombs away".
Johnson finally had to chance to explain himself regarding the shocking and abrupt resignation with his beloved team.
"I didn't know Rob (Pelinka),… First year in it was tremendous… And then I start hearing, 'Magic, you are not working hard enough. Magic's not in the office'", started Johnson.
"People around the Lakers office were telling me Rob was saying things, Rob Pelinka, and I didn't like those things being said behind my back, that I wasn't in the office enough. So I started getting calls from my friends outside of basketball, saying those things now were said to them, outside of basketball now, just not in the Lakers office anymore. Now it's in the media and so on… If you are going to talk betrayal, it's only with Rob", Magic revealed.
This is one of the reasons why he decided to call it quits and finally move on to stay out of that circle.
Then he continued by citing another factor in the decision and that was being 'powerless' despite ironically being the one who oversees the whole operation as the president of basketball.
"The straw that broke the camel's back was I wanted to fire Luke Walton, I showed [Jeanie Buss] the things he did well and the things he didn't do well. I said listen, we got to get a better coach. First day, well let's think about it. Second day, OK you can fire him. Then the next day, no, we should try to work it out", he said.
"So we went back and forth like that, and then she brought Tim Harris (Lakers' COO) into the meeting, some of the guys, and Tim wanted to keep him because he was friends with him. I said, when I looked up, I only really answer to Jeanie Buss. Now I got Tim involved. It's time for me to go. I got things happening that were being said behind my back. I don't have the power I thought I had to make decisions. And I told them, when it is not fun for me, when I think I don't have the decision-making power I thought I had, I got to step aside."