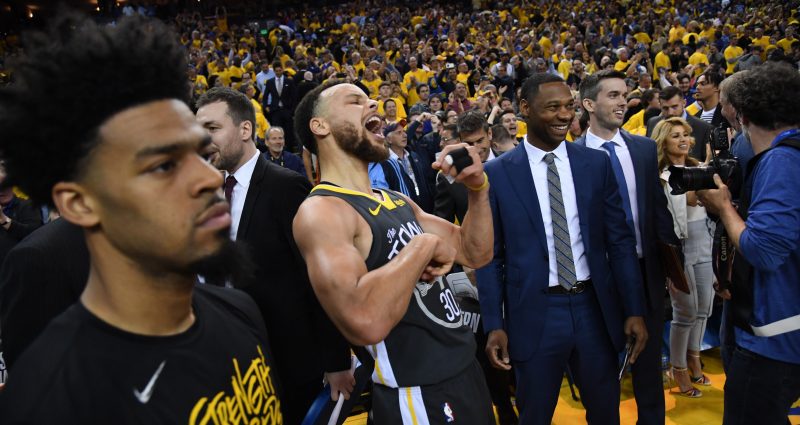 Stephen Curry carried his team in Game 2 victory over the Portland Trail Blazers in their ongoing Western Conference clash inside the Oracle Arena with a close 114-111 triumph and take a comfortable 2-0 series lead.

Curry put up an almost triple-double performance of 37 points, 8 rebounds and 8 assists who also got a handful of help from his teammates, Klay Thompson scored 24 points (with 3 boards and 2 assists) and Draymond Green showed his all around game as he filled the stat sheet with 16 points, 10 boards, 7 dimes and 5 blocks.

A strong fightback and bounce back game from the Portland Trail Blazers who suffered a Game One blowout loss was expected right from the beginning. They outscored the Warriors in the first quarter (31-29) and second quarter (34-21) for a pleasant 15-point halftime lead of 65-50.

But third quarter runs is where Golden State was famous for thus it was in full display in the game wherein they limited Portland to just 24 points and produced 39-point explosion to leave the result of the match hanging going into the payoff period.

And then it was a close affair in the 4th quarter as Andre Igoudala once again proved his defensive mastery where he stopped Damian Lillard's three point attempt to try and tie the game at 114 apiece.

As for the Blazers, Damian Lillard and CJ McCollum was combined for 45 points to lead their team in the second game. Seth Curry had a decent numbers with 16 points while Maurice Harkless and Rodney Hood added 12 markers apiece in the losing end.