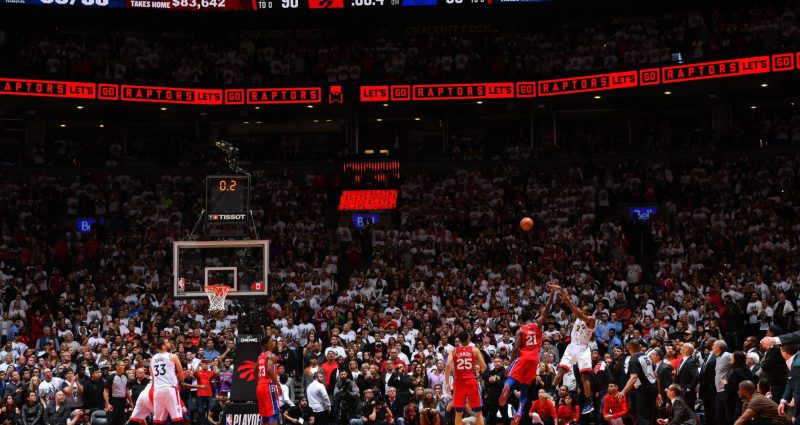 "Game 7", two of the greatest words in sports history showcased another great moment on Sunday when King Raptor Kawhi Leonard crafted an unforgettable game winner over Joel Embiid to cut the Sixers' 2019 season.

Playoff Kawhi was on full display in the crucial Game 7 of the Eastern Conference semifinals against the Philadelphia 76ers as the Toronto Raptors oust them with 92-90 win and advance to the conference finals for the first time since 2016.

The blockbuster trade last summer continues to exceed expectations and that risk is being wiped off as Kawhi Leonard propels his new team over a strong Sixers team when he sparked a 41-point with 8 rebounds and 3 assists. Serge Ibaka came big time as well providing 17 big points (with 8 rebounds and 3 assists) off the bench.

Marc Gasol, Kyle Lowry, Pascal Siakam and Danny Green combined for 30 points also for the number 2 seed Toronto.

The 76ers meanwhile was paced by their starting five with Joel Embiid scoring 21 points, 11 rebounds and 4 assists. J.J. Redick provided 17 markers (along with 4 boards and 3 assists), Jimmy Butler chipped in 16 of his own (with 4 rebounds and 1 assist), Tobias Harris recorded 15 points (with 10 rebounds and 3 assists) and wrapped up by Ben Simmons' 13 points, 8 rebounds and 5 assists. Their bench only mustered 8 in total, 6 from James Ennis III and 2 out of Mike Scott.

This is the second straight season where Philadelphia crashed out of the playoffs in the second round after being booted out by Boston last year in 5 games.

Toronto will next face the number one team and number one seeded Milwaukee Bucks for a spot in the NBA Finals.