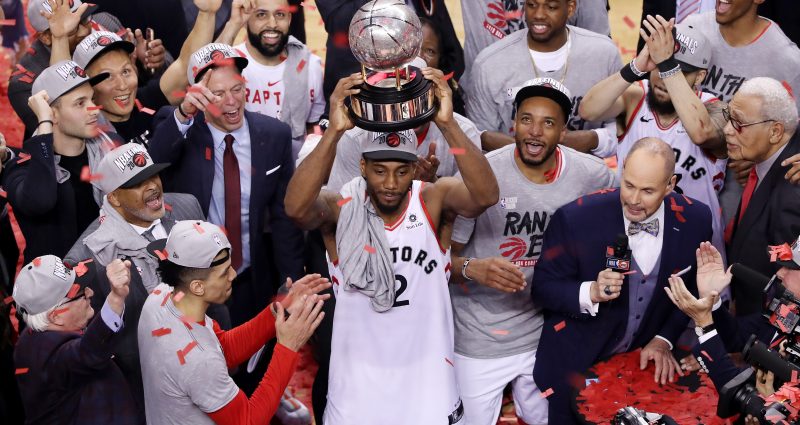 Los Angeles Clippers star forward Kawhi Leonard continues his dominant year as he adds another award to his trophy case by winning the Associated Press Male Athlete of the year. The award was confirmed by Tim Reynolds, the AP NBA Writer.
After only seeing 9 games in the 2017-2018 season due to recovery on his right quadriceps injury, Leonard requested a trade from San Antonio and was immediately dealt up north in Toronto for Demar DeRozan in a blockbuster trade.
The trade though was fruitful for the Raptors as Leonard carried them all the way to the big stage of the NBA Finals where he helped them stopped another three-peat bid of the Golden State Warriors in six games.
Leonard went on to win the Most Valuable Award because of his monster numbers of 28.5 points, 9.8 rebounds and 4.2 assists. Many expected him to stay with Toronto after the championship run but he opted to sign elsewhere.
Last offseason, the 'Fun Guy' was the hottest free agent commodity in the market and was courted by the Los Angeles Lakers and Toronto Raptors, but he picked the Clippers as his next destination. Leonard pocketed a hefty $103 million contract for three seasons.
The two-time NBA Champion and Final MVP outlasted his fellow NBA player and reigning MVP Giannis Antetokounmpo, Lamar Jackson of the Baltimore Ravens, Patrick Mahomes of the Kansas City Chiefs and tennis megastar Rafael Nadal for the award this 2019.
Kawhi Leonard also became the fifth NBA player to recieve the said plum after Larry Bird in 1983, Michael Jordan in 1991, 1992 and 1993, LeBron James in 2013, 2016 and 2018, and Stephen Curry in 2015.