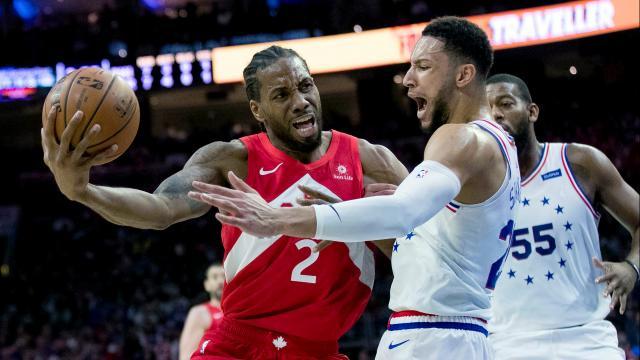 The seed that was planted last offseason is finally being harvested and the risk of a blockbuster trade is finally paying off, of course in a good way.
After a one-sided Game 3 defeat which saw their team being routed and trailing the series 2 games to 1, the Toronto Raptors responded in emphatic fashion to even up their Eastern Conference Semifinal series, 2-2 with a 101-96 victory against the Philadelphia 76ers thus reclaimed home court-advantage, heading back to their home floor for Game 5.
Kawhi Leonard, the team's biggest addition last summer spearheaded the win with team high 39 points and 14 rebounds. However, he only received little support from his teammates. Marc Gasol had 16 points, Kyle Lowry contributed 14 of his own, Serge Ibaka and Danny Green produced 12 and 11 respectively.
Meanwhile, the Sixers found themselves on the other side of the fence which absorbed a defeat in their home floor following a dominating performance from the previous one.
Jimmy Butler continued his stellar play scoring 29 points and pulled down 11 boards but one player failed to catch up with the action as Joel Embiid was particularly silent during the game, generating only 11 points in over 35 minutes of play. This is after his big scoring night in Game 3 where he had 33.
Embiid's showing was mainly due to flu-like symptoms and due to his knee tendinitis injury which bothers him for weeks now. In fact he was even doubtful to play in Game 3 because of that knee.
Both teams will clash again on May 7, Tuesday at 8 p.m. Eastern Time in the crucial Game 5 and a chance to inch closer to advance in the Eastern Conference Finals.