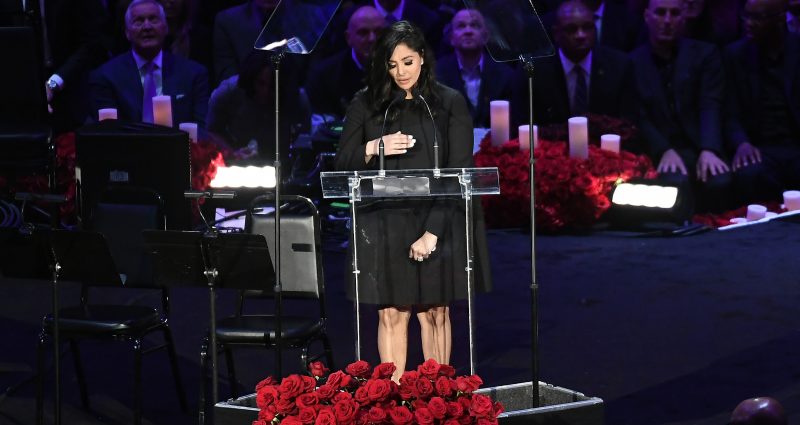 January 26, 2020 was the day that the world was shocked as NBA icon Kobe Bryant and his 13-year old daughter Gianna, along with other seven individuals died in a tragic helicopter crash in Los Angeles due to weather conditions.
Among those affected by the incident were NBA stars, basketball personalities and other stars in different industries. But the most devastated was Kobe's family particularly his wife, Vanessa Bryant.
And for the first time since the incident, Vanessa gave his public sentiments through Kobe and Gigi's celebration of life inside the Staples Center in Los Angeles.
Vanessa had two parts in her speech, one part is talking about Gianna and the other is for Kobe. Here are some of Vanessa's heart-warming statements about her daughter, Gianna:
My baby girl. Gianna Bryant is an amazingly sweet and gentle soul. She was very thoughtful and always kissed me good night and kissed me good morning. There were a few occasions where I was absolutely tired from being up with Bianka and Capri, and i thought she had left to school without saying goodbye. I text and say, "No kiss?" And Gianna would reply with, "Mama, I kissed you. You were asleep and I didn't want to wake you." She knew how much her morning and evening kisses meant to me, and she was so thoughtful to remember to kiss me every day. She was daddy's girl, but I know she loved her mama, and she would always show me and tell me that she loved me. She was one of my very best friends.
Gigi was very competitive like her daddy, but she had a sweet grace about her. Her smile was like sunshine. Her smile took up her entire face, like mine. Kobe always said she was me. She had my fire, my personality and sarcasm, and she was tender and loving on the inside. She had the best laugh. It was infectious. It was pure and genuine.


Kobe and Gianna naturally gravitated towards each other. She had Kobe's ability to listen to a song and have all the lyrics memorized after listening to the song a couple of times; it was their secret talent.


She was an incredible athlete. She was great at gymnastics, soccer, softball, dance, and basketball. She was an incredible dancer, too. She loved to swim, dance, do cartwheels and do jumps into our swimming pool. Gigi loved her TikTok dances.
We will not be able to see Gigi go to high school with Natalia and ask her how her day went. We didn't get a chance to teach her how to drive a car. I won't be able to tell her how gorgeous she looks on her wedding day. I will never get to see my baby girl walk down the aisle, have a father-daughter dance with her daddy, dance on the dance floor with me and have babies of her own. Gianna would have been an amazing mommy. She was very maternal ever since she was really little.

Gigi would've most likely become the best player in the WNBA. She would've made a huge difference for women's basketball. Gigi was motivated to change the way everyone viewed women in sports. She wrote papers in school defending women and wrote about how the unequal pay difference for the NBA and WNBA leagues wasn't fair. And i truly feel she made positive change for the WNBA players now, because they knew Gigi's goal was to eventually play in the WNBA.

I am still so proud of Gianna, and she was kind to everybody she met for the 13 years she was here on Earth. Her classmates shared many fond stories with us, and those stories reminded me that Gianna loved and showed everyone that no act of kindness is ever too small to make a difference in someone's life. She was always, always, always considerate of others and their feelings. She was a beautiful, kind, happy, silly, thoughtful and loving sister and daughter. She was so full of life and had so much more to offer this world. I cannot imagine life without her. Mommy, Natalia, Bianka, Capri and Daddy love you so much, Gigi. I will miss your sweet handmade cards, your sweet kisses, and your gorgeous smile. I miss you, all of you, every day. I love you.
Vanessa Bryant on Kobe Bryant:
Now for my soulmate. Kobe was known as a fierce competitor on the basketball court. The greatest of all time, a writer, an Oscar winner and the Black Mamba. But to me he was KobKob, my Boo-Boo, my Bae-Boo, my papi chulo. I was his VeBe, his principessa, his reina, Queen Mama — Mamba — and his [inaudible nickname].


I couldn't see him as a celebrity nor just an incredible basketball player. He was my sweet husband and the beautiful father of my children. He was mine. He was my everything.
Kobe and I have been together since I was 17-and-a-half years old. I was his first girlfriend, his first love, his wife, his best friend, his confidant and his protector. He was the most amazing husband. Kobe loved me more than I could ever express or put into words.
He was truly the romantic one in our relationship. I looked forward to Valentine's Day and our anniversaries every year. He planned special anniversary trips and a special traditional gift for every year of our marriage. He even handmade my most treasured gifts. He just thought outside the box and was so thoughtful even while working hard to be the best athlete. He gave to me the actual notebook and the blue dress Rachel McAdams wore in "The Notebook" movie. When I asked him why he chose the blue dress, he said because it was the scene when Allie comes back to Noah. We had hoped to grow old together like the movie. We really had an amazing love story. We loved each other with our whole beings, two perfectly imperfect people raising a beautiful family and our sweet and amazing girls.
I am so thankful Kobe heard KoKo say, "Dada." He is not here to drop Bianka and Capri off at pre-K or kindergarten, and he will not be here to tell me to get a grip when we have to leave the kindergarten classroom, and he is not going to be able to walk our girls down the aisle or spin me around on the dance floor, singing PYT to me. But I want my daughters to know and remember the amazing person, husband and father he was. The kind of man that wanted to teach future generations to be better and keep them from making his own mistakes. He always liked working and doing projects to improve kids' lives. He taught us all valuable lessons about life and sports through his NBA career, his books, his show, "Detail," and his "Punies" podcast series. We are so thankful he left those lessons and stories behind for us.




He was thoughtful and always wrote the best love letters and cards, and Gigi had his wonderful ability to express her feelings into paper and make you feel her love through his words. She was thoughtful like him. They were so easy to love. Everybody naturally gravitated towards them. They were funny, happy, silly, and they loved life. They were so full of joy and adventure. God knew they couldn't be on this Earth without each other. He had to bring them home to have them together. Babe, you take care of our Gigi. I got Nati, BiBi and KoKo, and we're still the best team.


We love and miss you, Boo-Boo and Gigi. May you both rest in peace and have fun in heaven until we meet again one day. We love you both and miss you forever and always, Mommy.