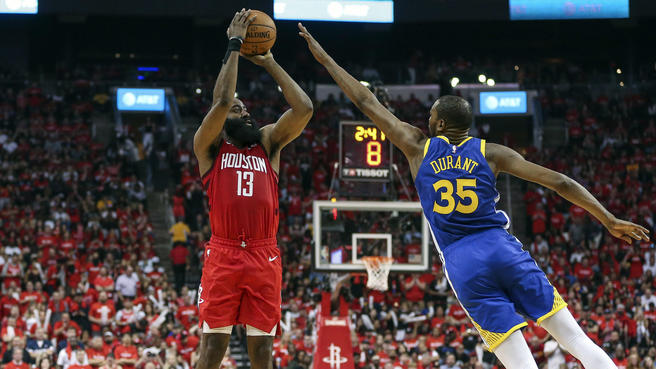 The Houston Rockets refused to concede a 3-to-1 series hole and instead tied their Western Conference Semifinals battle with the Defending Champions Golden State Warriors with a 112-108 victory in Game 4.
After a drama involving their team about last year's Western Conference Finals' Game 7 and the hefty number of "missed calls" and "bad officiating" which they judged to be the main cause of their trip to the NBA Finals, it is safe to say that H-Town finally found the groove.
It was a game of runs for both teams and the Rockets hold off the last Warriors run in the payoff period for the second straight game to officially claim the victory.
Another top candidate for Most Valuable Player and reigning holder of the award James Harden led all scorers with his 38 output along with 10 boards and 4 assists.
He got plenty of help though from his supporting cast as Eric Gordon produced 20, PJ Tucker with 17 points, Chris Paul adding 13 markers and Austin Rivers pouring 10 points.
Houston's three-point shooting also clicked in the game, making 17 out of 50 shots from the beyond the arc for 34 percent.
The Golden State Warriors though was not connecting from three point territory because they only made 8 shots from 33 attempts, accumulating 24.2 percent.
Kevin Durant generated a team high 34 points and Stephen Curry tallying 30 of his own in the losing effort. Besides from the two superstars, only two other players broke into double-digit scoring for Golden State with Draymond Green scoring 15 points and Klay Thompson contributed 11.
Crucial Game 5 is on Thursday and is headed back in Oracle Arena.