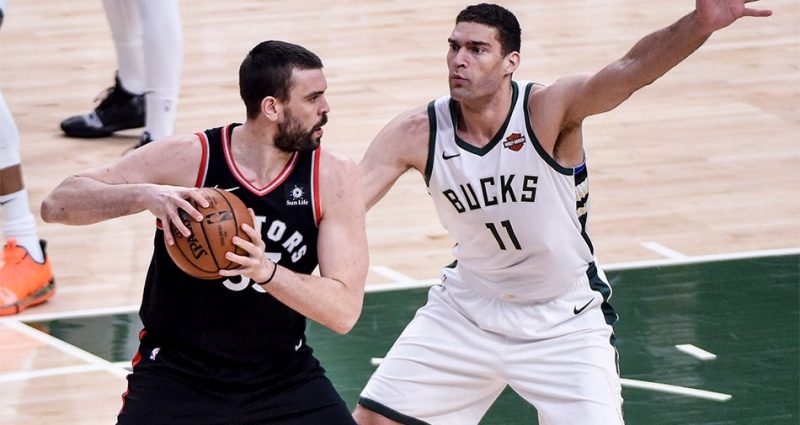 Number one seeded and best holder of the best record in the NBA during the regular season Milwaukee Bucks drew first blood in their Eastern Conference Finals showdown against number two seed Toronto Raptors with 108-100 Game 1 win inside the Fiserv Forum.

The Raptors jumped into an early lead in the first half, they were up by 11 points after the opening stanza (34 to 23) and maintained their cushion in the halftime break, 59-51 as Kawhi Leonard led his team with 15 first half points with Pascal Siakam contributing 11 markers and 5 rebounds. Milwaukee was headed of course by their best player in Giannis Antetokounmpo who tallied 13 points and grabbed 9 boards also in the first half. Brook Lopez generated 12 of his own.

But the Bucks found their groove and turned up the defensive intensity in the second half thanks mainly to the 17-point explosion of center Brook Lopez who also recorded his playoff career high in terms of points (29 points). They also limited the Raptors to just 17 points in the last quarter.

Toronto meanwhile was paced by Kawhi Leonard who led all scorers for 31 points (with 9 rebounds and 2 assists) and Kyle Lowry contributing 30 points (with 8 boards and 2 assists). Pascal Siakam added 15 points (on top of 6 rebounds and 3 assists). However, they missed a scoring barrage from their bench who only produced 18 points in total and no one broke the double digit mark.

Danny Green and Norman Powell had 6 points apiece, Serge Ibaka chipped in 4 markers and Fred VanVleet wrapped up the scoring with 2.

Game 2 will be on Friday, 8:30 eastern time.