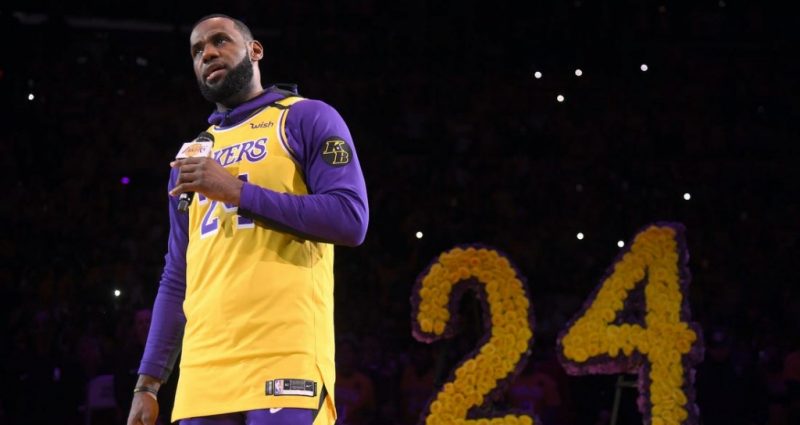 On February 24, a 'celebration of life' memorial was given to Kobe and Gianna Bryant who died last month in a helicopter crash in Los Angeles along with other seven people that shocked the whole world.
From basketball personalities like Michael Jordan, Shaquille O'Neal and Dwayne Wade to celebrities Beyonce, Jimmy Kimmel and Alicia Keys, everyone was in attendance to give a tribute to the late NBA superstar.
Interestingly, one big name is missing the event, current Los Angeles Lakers superstar LeBron James was nowhere to be seen in the vicinity of the Staples Center and according to his agent Rich Paul via Stephen A. Smith that he was in his 'own space' during the celebration.
The no-show of James in the ceremony prompted a question during the Lakers' shootaround before their game against the New Orleans Pelicans.
"Emotionally a wreck, like everyone else. Another challenging day for all of us. Like you've been hearing me talk about the last couple times you guys asked me about the whole situation, it's just been hard to kind of talk about it. Trying not to go back. It's just tough," James stated.
But when asked if where he is during the celebration of life, he was mum to answer it and instead talked about Vanessa's brave heart to face everything in the aftermath of Kobe and Gigi's death.
I respect your question, for sure, but it's very emotional. A very emotional day. A very tough day for myself, for my family, for everyone involved," James said. "One thing I can come out of it saying is how strong and how bold and how powerful Vanessa is. To stand up there the way she did, to give that speech the way she gave that speech. I commend her.
My heart is with their family still. With his three daughters that are still here. With his wife. With his mom and dad and his sisters. It was just a very difficult day. Obviously a celebration, but it was a difficult day for all of us. So I appreciate it. If we could move on to tonight, that would be great.
Regardless of LeBron being in the venue or not, we all know that he also shared a special bond with the "Black Mamba" and vows to continue his legacy in the coming years.
I mean, we continue to live on his legacy and continue to have our hearts heavy with both sadness and with happiness for his family that are still here.